March 15, 2014.
We had a breakfast meeting with Movement for the Transformation of Bataan Pastors Edwin Mallari, Cesar Legaspi, Sr., Pat Cayabyab, Jojo Bacolod and Arman Simon.

This was followed by an overview on Biblical Christian Worldview conducted by Pastor Conradjun Tolosa and Teaching Christian Values to the Filipino Youth by Gin Tolosa.
 There were at least 50 pastors and teachers in attendance.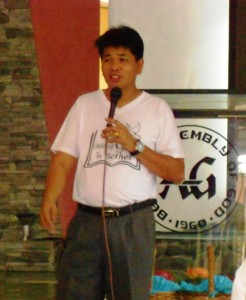 Two months ago, our host, Pastor Edwin Mallari, mandated that all 85 families in his church must hold a weekly devotion before dinner which they called "FBS" (family bible study) using our devotional material Biblical Christian Worldview. A few family leaders who attended the seminar shared their testimonies on how the Lord blessed them because of FBS.
Family bonding while studying and growing in the knowledge of God's word is a time well spent.
Lambat supports them by providing them with all the devotional materials their church needs.