Values Formation in the communities, in public elementary and high schools, in govenrment agencies. And now, the private sector can very well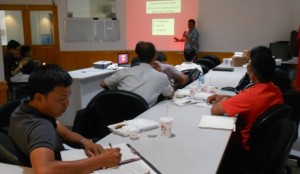 benefit from this movement.
Pastor Marlon Lorenzana attended Values Formation Seminars conducted in Bacoor by Pastor Joel Dela Cruz last year. He found the modules very applicable for which his former employer who owns a large company requested him to conduct values formation seminars to his officers and staff.
He is mobilizing other pastors who will facilitate our modules to teach the employees of 62 micro-finance and 90 credit offices. Pastor Marlon, has trained 27 pastors who handle 46 different areas in the provinces of Cabanatuan City, Cavite, Dagupan City, Nueva Ecija, Pampanga, Pangasinan and Marikina (ambien) City.
Reverend Conrad Tolosa conducted an overview on Servant Leadership for Values Formation Facilitators (VFF) at Tarlac City (1/11/14)
 Overview on Servant Leadership for Values Formation Facilitators at Kamias, Quezon City (1/10/14)
Pastor Joel Dela Cruz conducted an overview on Biblical Christian Worldview for Values Formation Facilitators at Kamias, Quezon City 8/2013